Thursday, June 1, 2023 / by Michelle Ward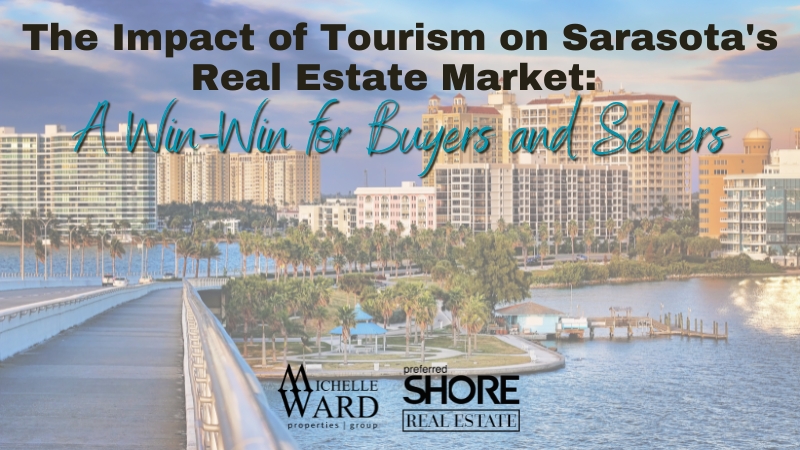 As a successful real estate team in the beautiful city of Sarasota, Florida, we have witnessed firsthand the significant impact that tourism has on the local real estate market. Sarasota, with its stunning beaches, cultural attractions, and vibrant community, has emerged as a sought-after destination for tourists from around the world. In this blog post, we will delve into the statistics from the past 48 months to illustrate the profound influence of tourism on the Sarasota real estate market. Moreover, we will highlight how this impact creates an advantageous environment for both homebuyers and sellers.
Tourism and Increased Demand:
Over the past four years, tourism in Sarasota has experienced remarkable growth. The influx of visitors has not only contributed to the local economy but has also stimulated the real estate market. The increased exposure and popularity of Sarasota as a tourist destination have fueled demand for homes, condos, and investment properties in the area.
Benefits for Home Sellers:
1. Rising Home Values:
According to market data, Sarasota's real estate market has seen steady appreciation in home values due to tourism-driven demand. Over the past 48 months, the median home price in Sarasota has increased by approximately 15%. This steady growth in home values benefits sellers by providing an opportunity to maximize their returns on investment.
2. Shorter Time on Market than most other areas of Florida:
The surge in tourism has led to a shorter time on market for properties. On average, homes in Sarasota have spent fewer days listed over the past four years. The reduced time on market signifies a robust demand from buyers, enabling sellers to sell their properties in a timely manner even with the increased interest rates that buyers are enduring.
3. Strong Rental Income Potential:
Tourism not only impacts the sales market but also presents lucrative opportunities in the rental market. Sarasota's popularity as a vacation destination ensures a consistent demand for rental properties. Whether it's beachfront condos, charming bungalows, or luxury villas, homeowners have the opportunity to generate substantial rental income from their properties, especially during peak tourist seasons.
Benefits for Homebuyers:
The impact of tourism on Sarasota's real estate market isn't limited to sellers. Homebuyers also reap several advantages from this thriving tourism sector.
1. Diverse Inventory:
The heightened demand from tourists has prompted developers and investors to expand the housing inventory in Sarasota. This means homebuyers have a wider range of options to choose from, whether they are seeking a primary residence, vacation home, or investment property. The variety of properties available caters to different budgets, preferences, and lifestyles.
2. Potential for Appreciation:
Sarasota's sustained tourism growth and popularity as a destination contribute to the potential for property appreciation. Homebuyers can leverage this upward trend in home values to build equity and secure long-term financial gains. Investing in a property in Sarasota means not only enjoying the lifestyle benefits but also positioning oneself for potential wealth accumulation.
3. Rental Income Opportunities:
For buyers considering investment properties, Sarasota's robust tourism industry offers the potential for substantial rental income. The ability to generate rental revenue, particularly during peak seasons, can offset mortgage costs and provide an additional income stream for homeowners.
The impact of tourism on Sarasota's real estate market cannot be understated. The steady growth in visitor numbers has led to increased demand for properties, driving up home values and creating favorable conditions for both buyers and sellers. Sellers benefit from rising home values, shorter time on market, and strong rental income potential. Meanwhile, buyers enjoy a diverse inventory, the potential for property appreciation, and opportunities for rental income. As a successful real estate team in Sarasota, we understand the dynamics of this market and are well-equipped to guide both buyers and sellers toward their real estate goals. Let's Connect soon about your Real Estate Goals and let us show you how our experienced team can get you moving towards where you want to be.
---