Saturday, July 1, 2023 / by Michelle Ward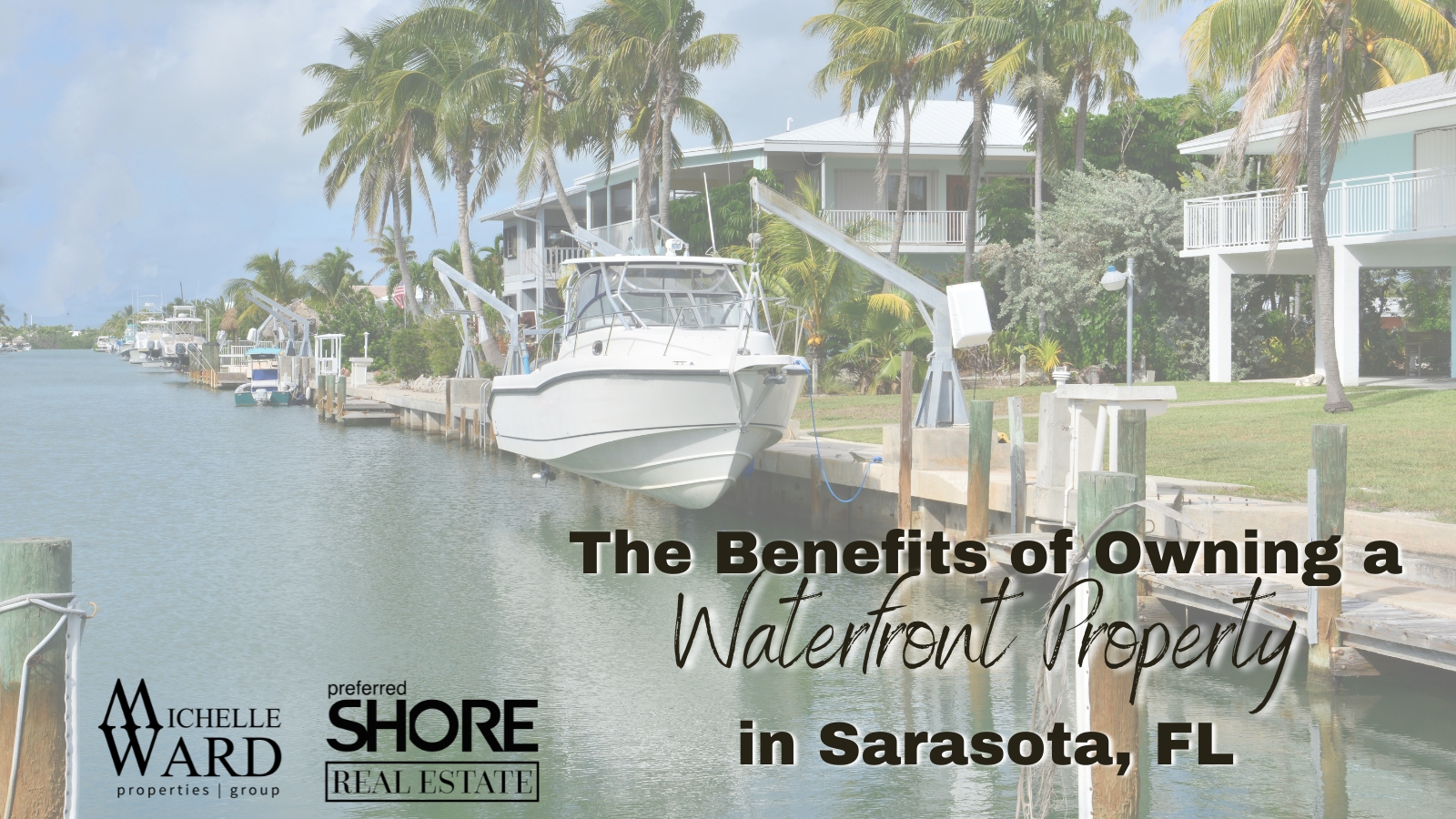 As a reputable real estate team specializing in the Sarasota, Florida market, we have witnessed the allure and value of waterfront properties firsthand. Sarasota's stunning coastline, picturesque beaches, and abundant waterways offer a unique opportunity for homeowners to embrace the benefits of owning a waterfront property. In this article, we will explore the numerous advantages of investing in a waterfront property in Sarasota, from breathtaking views and recreational opportunities to potential financial returns.


Unparalleled Views and Serene Surroundings:
Owning a waterfront property in Sarasota means waking up to awe-inspiring views of the ocean, bay, or river every day. The tranquil sounds of lapping waves and the sight of stunning sunsets create a serene ambiance that is hard to replicate. Living in close proximity to the water allows homeowners to immerse themselves in the natural beauty of their surroundings, fostering a sense of peace and tranquility.
Access to Water-Based Recreation:
Waterfront living in Sarasota opens up a world of recreational possibilities right at your doorstep. Whether you enjoy boating, kayaking, paddleboarding, fishing, or simply lounging on the beach, having direct access to the water enhances your lifestyle and offers endless opportunities for outdoor activities. Sarasota's warm climate makes it even more enticing to explore the water year-round.
Enhanced Property Value and Investment Potential:
Waterfront properties in Sarasota have historically shown strong appreciation and have maintained their value even during economic downturns. The high demand for waterfront living, coupled with limited inventory, creates a desirable market for these properties. As a result, owning a waterfront property can provide a solid return on investment over time.
Privacy and Exclusivity:
Waterfront communities in Sarasota often offer a sense of exclusivity and privacy. Gated neighborhoods and private beach access ensure a tranquil living environment away from the hustle and bustle of city life. These communities often prioritize security and provide a sanctuary for homeowners seeking a more secluded and private lifestyle.
Potential for Rental Income:
Waterfront properties in Sarasota hold significant potential for generating rental income. With the city's popularity as a tourist destination, there is a consistent demand for vacation rentals and seasonal leases. Homeowners can capitalize on this demand by renting out their waterfront property when they are not using it, offering an attractive source of additional income.
Health and Well-being:
Living near the water has been linked to numerous health benefits. The calming effect of water has been shown to reduce stress and promote mental well-being. Additionally, the proximity to beaches and waterfront parks encourages an active lifestyle, fostering physical health through activities like swimming, jogging, or cycling.
Owning a waterfront property in Sarasota, FL, offers a multitude of benefits that go beyond the breathtaking views and immediate access to water-based activities. The investment potential, enhanced property value, privacy, and potential for rental income make waterfront properties an attractive choice for buyers seeking a unique and rewarding lifestyle. As a real estate team specializing in Sarasota, we are well-equipped to guide you through the process of finding and acquiring your dream waterfront property. Contact us today to explore the exceptional opportunities that waterfront living in Sarasota has to offer.
---