Wednesday, September 6, 2023 / by Michelle Ward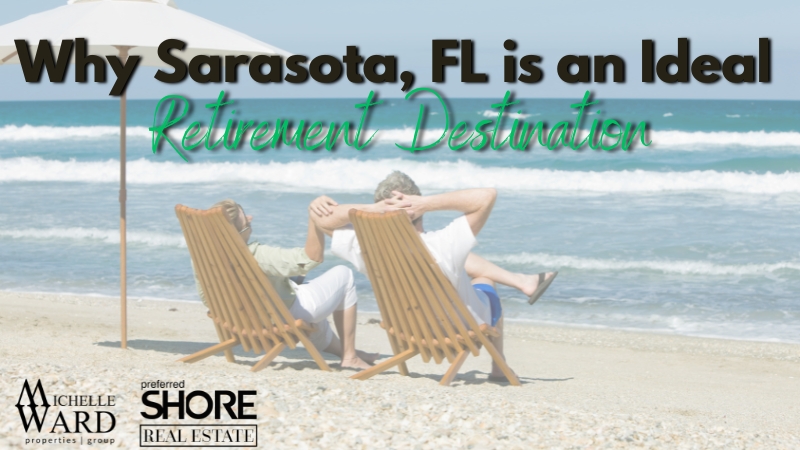 Retirement is a time to embrace new adventures, pursue passions, and enjoy a fulfilling lifestyle. When it comes to choosing the perfect retirement destination, Sarasota, Florida, stands out as a true paradise. With its pristine beaches, vibrant cultural scene, and abundant recreational opportunities, Sarasota offers retirees an idyllic setting to embark on their next chapter. In this blog post, we will explore the reasons why Sarasota, FL, is an ideal retirement destination and why retirees are flocking to this coastal haven.
1. Beautiful Weather and Beaches:
One of the biggest draws of Sarasota is its year-round warm climate and breathtaking beaches. Retirees can revel in sunny days, gentle ocean breezes, and the chance to soak up the sun on some of the world's most renowned beaches, including Siesta Key Beach and Lido Beach. The perfect weather allows for an active outdoor lifestyle and endless opportunities for relaxation.
2. Cultural Enrichment:
Sarasota is renowned for its vibrant arts and cultural scene. The city is home to world-class theaters, art galleries, museums, and renowned performing arts venues like the Sarasota Opera House and the Van Wezel Performing Arts Hall. Retirees can immerse themselves in a rich tapestry of cultural experiences, from attending theater performances to exploring art exhibitions, contributing to a fulfilling and intellectually stimulating retirement.
3. Abundance of Recreation and Leisure Activities:
Retirement in Sarasota means never running out of things to do. The city offers a wide range of recreational activities suited to various interests. Retirees can tee off at pristine golf courses, explore nature trails and parks, go fishing or boating, or indulge in various water sports. Whether it's enjoying a leisurely stroll through the Selby Botanical Gardens or joining a yoga class on the beach, Sarasota provides an active and healthy retirement lifestyle.
4. Health Care Facilities and Services:
Sarasota boasts an excellent healthcare system, including top-notch hospitals, medical centers, and specialized clinics. The presence of renowned medical professionals and a wide range of healthcare services ensures that retirees have access to quality medical care and support, providing peace of mind during their retirement years.
5. Active Retirement Communities:
Sarasota offers a plethora of active retirement communities that cater specifically to the needs and desires of retirees. These communities provide an array of amenities, such as golf courses, swimming pools, fitness centers, social clubs, and organized activities. Living in an active retirement community fosters a sense of camaraderie and provides ample opportunities for socializing and staying engaged with like-minded individuals.
6. Proximity to Cultural Hubs and Travel Opportunities:
Located on Florida's Gulf Coast, Sarasota is conveniently situated near several major metropolitan areas. Residents can easily access the vibrant city life of Tampa and St. Petersburg, as well as the cultural attractions of Miami and Orlando. Additionally, Sarasota's international airport provides convenient travel options, allowing retirees to explore new destinations and visit family and friends with ease.
Sarasota, FL, is more than just a retirement destination; it's a retirement paradise. With its beautiful weather, stunning beaches, thriving cultural scene, and an abundance of recreational opportunities, Sarasota offers retirees an unmatched lifestyle. From indulging in leisurely beach days to immersing themselves in arts and culture, retirees can create a fulfilling retirement experience in this coastal haven. Embrace the beauty, warmth, and vibrancy of Sarasota and enjoy retirement in paradise.

Would you like assistance with finding your slice of paradise? Give a call now, we are ready to assist!
---