Tuesday, August 1, 2023 / by Michelle Ward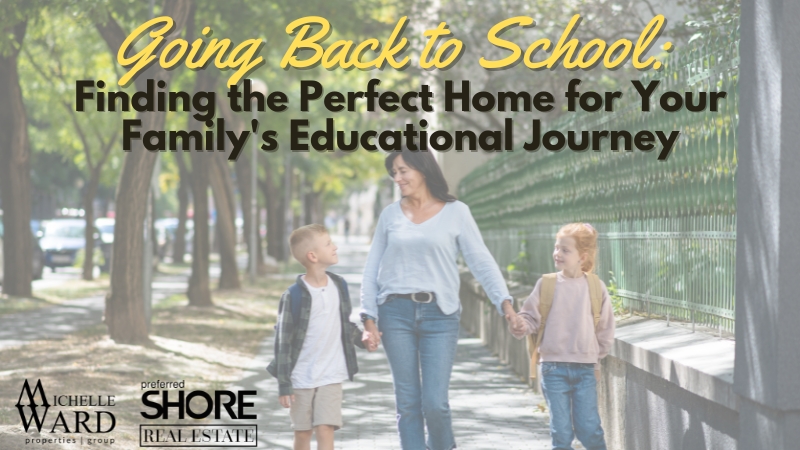 As a real estate agent, I have had the privilege of assisting numerous families in finding their dream homes. One recurring theme that often arises during our conversations is the importance of choosing a home that not only meets their present needs but also aligns with their future aspirations. With the school year approaching, many parents are considering how their home can enhance their children's educational experience and make daily parenting of school-aged kids more efficient. In this blog post, we will explore the significance of finding the right home for your family's educational journey and how it can positively impact your children's academic success and overall well-being.
1. Proximity to Quality Schools:
When searching for a home, the proximity to quality schools is a top priority for many families. Being close to reputable educational institutions means reduced commuting time for your children, providing them with more time for rest, extracurricular activities, and family bonding. Additionally, residing within a desirable school district can offer your children access to excellent educational resources, dedicated teachers, and a supportive learning environment.
2. Peaceful Study Spaces:
A conducive study environment is vital for children to concentrate and excel academically. A well-designed home with designated study spaces or quiet areas allows children to focus on their homework without distractions. Consider homes with separate study rooms, nooks, or even converted spaces such as lofts or basements that can serve as personalized study sanctuaries for your children.
3. Organizational Efficiency:
Managing the daily demands of school life requires effective organization. Look for homes that offer ample storage options, such as built-in closets, cabinets, or even a dedicated mudroom, where backpacks, shoes, and school supplies can be neatly organized. Having an organized home reduces stress, promotes efficient routines, and empowers children to take responsibility for their belongings.
4. Outdoor Spaces for Learning and Play:
Outdoor spaces provide a breath of fresh air and a place for children to engage in physical activities and exploration. Consider homes with spacious yards, community parks, or access to nearby recreational areas. These spaces offer children opportunities for unstructured play, outdoor learning experiences, and the development of social skills through interaction with their peers.
5. Community Support and Resources:
A supportive community can greatly enrich your family's educational journey. Seek neighborhoods with a strong sense of community where families actively engage in educational events, workshops, and extracurricular activities. Living in a community that values education fosters an environment where parents can collaborate, share resources, and provide additional support for their children's learning.
6. Room for Growth:
Choosing a home that accommodates your family's future growth is a wise investment. As your children progress through their educational journey, their needs may evolve. Consider homes with flexible spaces that can adapt to changing requirements, such as additional bedrooms, a home office, or a multi-purpose room that can be transformed into a dedicated learning or hobby area.
Conclusion:
Finding the perfect home for your family's educational journey is an essential aspect of ensuring your children's academic success and overall well-being. A home that is in close proximity to quality schools, provides peaceful study spaces, supports organizational efficiency, offers outdoor learning opportunities, and is part of a supportive community can positively impact your children's educational experience. As a real estate agent, my goal is to assist you in finding a home that not only meets your immediate needs but also aligns with your family's long-term educational aspirations. Let's embark on this journey together and discover the perfect home that will facilitate a successful educational path for your children.
Contact Us to start the search for your family's dream home today. Together, we can create an environment where your children's educational potential can flourish
---