Sunday, October 1, 2023 / by Michelle Ward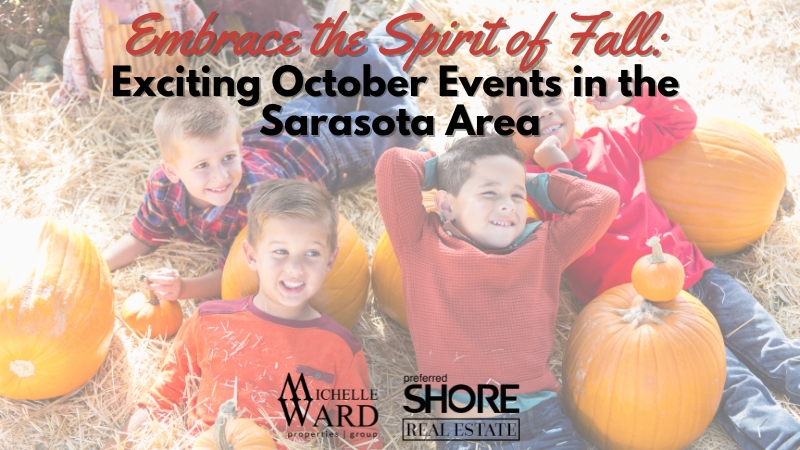 As a real estate agent in the vibrant Sarasota area, I have witnessed firsthand how living locally offers an exceptional lifestyle, particularly during the festive fall season. Sarasota comes alive with a wide array of October events that capture the essence of autumn and provide unforgettable experiences for residents and visitors alike. In this blog post, we will explore some of the exciting October events happening in the Sarasota area and showcase why living locally during the holidays is truly enjoyable.
Kick off the fall season at the largest Pumpkin Festival, a beloved annual event that showcases the vibrant colors and flavors of autumn. Enjoy pumpkin picking, hayrides, live entertainment, delicious food, and a variety of family-friendly activities. This festival is the perfect way to celebrate the season with loved ones while creating cherished memories. This will be the 32nd Annual Festival because it's the favorite.
Prepare to be amazed by the Siesta Key Crystal Classic Sand Sculpting Festival, where talented artists from around the world showcase their creativity through stunning sand sculptures. Marvel at the intricate details and imaginative designs that transform the Siesta Key Beach into an enchanting outdoor art gallery. This event is a testament to the unique and artistic spirit of Sarasota.
St. Armand's Circle will once again come alive with gallery-style booths filled with every medium of fine art during the 20th Annual St. Armand's Circle Art Festival. The popular free, outdoor event takes place along South Boulevard of Presidents and inside St. Armand's Circle. National and local artists are set to display their fine works in a prestigious show encompassing life-sized sculpture, fine jewelry, striking works of art and hand-crafted apparel and decor. Whether your passions run to sparkling jewels and one of a kind paintings; exquisitely crafted glasswork or an art deco sculpture, you are sure to find it during the free, two-day event.
4.
Annual Downtown Sarasota Craft Fair:
Sarasota, located along Florida's Gulf of Mexico, is well known for its white sandy beaches and beautiful architecture. This popular craft festival has garnered crowds of fine craft lovers each year. A variety of jewelry, pottery, ceramics, photography, painting, clothing and much more. An expansive green market with plants, orchids, exotic flora, handmade soaps, gourmet spices and freshly popped kettle corn further compliments the weekend.
Join in the Halloween festivities at Boo Fest, a family-friendly event held at Lakewood Ranch. This spooktacular celebration features costume contests, trick-or-treating, live music, games, and a pumpkin patch. Watch as the community comes alive with laughter, creativity, and the joy of Halloween.
Experience the magic of autumn at the Fruitville Grove Pumpkin Festival. Wander through the pumpkin patch, pick out your favorite pumpkins for carving, and enjoy hayrides, corn mazes, and delicious fall treats. This festival captures the essence of the season and provides a delightful experience for all ages.
Living locally during the holiday season in Sarasota offers a unique and enjoyable experience. Embrace the warmth of the community as you explore the vibrant fall events, savor seasonal flavors at local eateries, and take part in neighborhood gatherings and celebrations. From strolling through picturesque parks adorned in autumn hues to attending festive concerts and performances, Sarasota offers a wealth of opportunities to create lasting memories during the holiday season.
As a real estate agent, I take great pride in helping individuals and families find their dream homes in Sarasota, where they can fully immerse themselves in the local culture and vibrant community spirit. Let us guide you on the journey of finding a home that allows you to embrace the joy and beauty of living locally during the holidays and throughout the year.
October in the Sarasota area brings a host of exciting events that celebrate the spirit of fall and the joy of the holiday season. Whether you're attending the Hunsaker's Pumpkin Festival, marveling at sand sculptures, or enjoying the festivities at the downtown craft fair, living locally in Sarasota provides a rich and fulfilling lifestyle.
---